This post contains affiliate links which means I get a commission if you make a purchase and no additional cost to you.
Looking for the best form builder for your WordPress website? Then look no further because in this article we discuss which form builder you should use to get the best results.
Having forms on your website are super essential for your business. They can skyrocket your growth from the results you may receive.
In this article we have compared the best most popular form builder plugins and stated reasons why WPForms has topped them all.
What is WPForms?
Most recently I got an email from a team member at WPForms who sent over the year in review. It show the wide range of accomplishments we have gotten from this plugin. Thanks to the millions of users we have reached in the Top 10 Most Popular WordPress Plugins which an exceeding of 4 million installs.
That's an amazing accomplishment. Why? Because WPForms is by far the best form builder for WordPress. This very powerful plugin is super beginner friendly and very easy to use.
So what are some the features that make this plugin outstanding?
Ease to Use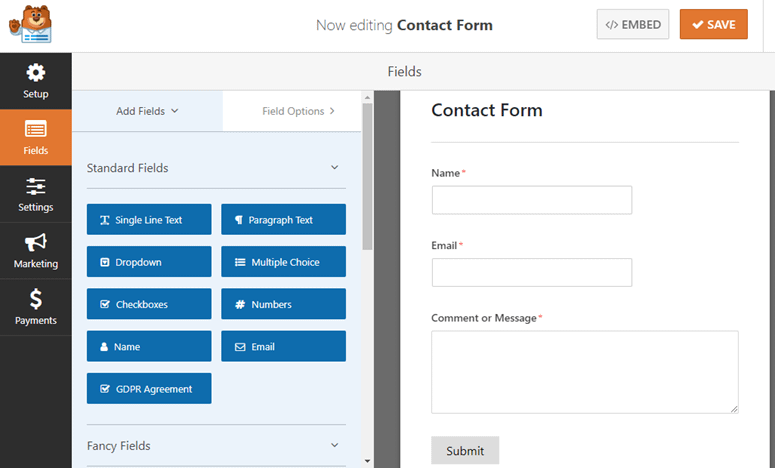 Drag and Drop Function
Literally everything in WPForms is drag and drop. You can quickly drag your form fields and drop them anywhere you want. And WPForms comes equipped with multiple built-in templates for you to choose from.
Then you can customize it accordingly. This allows you to build forms within minutes without writing any code, easily remove and add fields, rearrange them, and even view the preview before it goes live.
Compared with a plugin like Gravity forms which has no templates available and has bit of a learning curve, WPForms turns out to be the best form builder for your WordPress website.
Custom Forms
The ability to create complex forms is no match for the function of WPforms. You can build custom newsletter signup forms and integrate them with the many email marketing services provided.
Customize your registration forms to give your users instant access to login and sign up from anywhere on the website. This is a great tool for persons like myself who would like a membership site and stores.
You can also create multi-step forms to increase user experience. That way your information would not be bulky but have a beautiful flow.
And don't forget if you are looking for guest posts or to collect feedback and reviews you can use the interactive post submission forms.
Compared with other plugins that provide similar form types WPForms still stands at the top best form builder to use.
Automation Function
With WPForms you can get automatic email notifications when your forms are filled out and submitted and you can send automatic notification to your users who have filled out the forms.
You can easily view your form entries which helps to automate sales workflows. With this feature you can connect your forms to Uncanny Automator and that will integrate with plugins like WooCommerce and Elementor.
Online Payments
If you have a store like mines then clearly you would want the online payment integration. Since WooCommerce can be integrated and work well WPForms, using this form builder to collect payment seems like the best solution.
Integrate Stripe, PayPal and Authorize.Net into your order forms so that you can create easy payment methods for your users.
WPForms reduces your form abandonment by capturing emails when persons have not finished, it gives you the best control over user data, protects information and prevents spam submissions, offers file uploads with form submission, and 100% responsive.
With all these features and more what would the price look like?
Price
WPForms comes with a free version called WPForms Lite which offers all the essential features that you need to create contact forms. Yet the image below gives us a pretty good idea of how reasonable their pricing is.
With basic license you'll get access to the Form Template Pack add-on.
Compared to Formidable Forms and Gravity Forms, WPForms has by far the better price for the amount of features they offer.
Conclusion
Despite the many other plugins available WPForms is the best choice for any budget with its necessary features and flexibility.
It makes it quick and easy to create forms with its drag and drop builder.
It offers unlimited forms with unlimited customizations
It has a free version, WPForms Lite which has all the features and 4 templates to choose from.
It has 24/7 contact support
It is mobile friendly and SEO friendly
So we and confidently say without any doubt that WPForms is the best form builder that beginners, intermediate and even advanced WordPress users can used to add to their website.
Download your WPForms today!
XIXI
JEWELL NICOLE