So do you know there is more than one way to collect payments on your website? I'm talking about Stripe and how you can easily use WPForms with the Stripe addon to receive your monies.
Oh, you didn't know, well neither did I at one time. But guess what! I'm here to give you the entire scoop on how Stripe is the most popular online payment solution and how WPForms makes it stupid simple to collect payments.
And while we are at it, I'll show you how to install their plugin, connect your stripe with your payment form and how this helps with recurring payments. I'll even throw in some examples to make the learning process even easier.
But you know as always before we start there are a few things we got to do in order to make this experience the best we ever had.
Grab a seat and your pen and paper
Get yourself something to drink (happy liquid)
Turn away all distractions
Prepare your mind
Now I believe your ready to be mind blown. This is making payment easier everything – Stripe.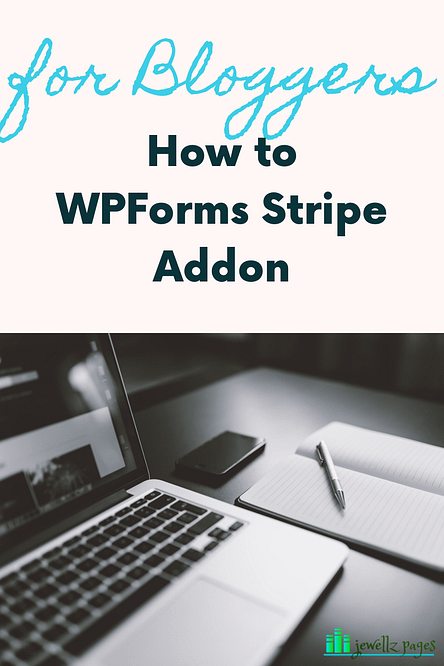 What is Stripe & what exactly does Stripe do?
According to Stripe themselves, their mission is to increase the GDP (Gross Domestic Product) of the internet. Thus businesses of every size, big and small, new startups, and public companies have used this software to accept payments and manage their business online.
So simply put it's the most popular online payment solution right about now. Bloggers, business owners, and those who own websites use Stripe on their website to receive payments from their physical and digital products.
Since this is the case many companies have seen that it is necessary to use Stripe Addon to integrate smoothly with their apps. And such is the case with WPForms. They have created the WPForms Stripe Addon.
What does the Stripe Addon do?
So usually when your users come onto your website and find something that they would love to buy, the link directs them to your store, or an external source in order to complete their transaction.
But with WPForms Stripe Addon, your users no longer have to leave your site to make their transactions possible. This addon allows payments right on your WordPress website and right within the payment form.
<< Get your WPForms Stripe Addon >>
How to Connect Stripe to your WordPress website?
So how do you go about getting this WPForm Stripe Addon? The first thing you will need is a Stripe account.
Head across to Google and type in the search bar, Stripe. Select the first article and you'll be brought to a page like this.
Select the get started button.
Fill in the information, agree to the terms and conditions and select create an account
When your account is created they will want you to verify your email address. Sign in to your account and it should look something like this.
From your Stripe dashboard your can get your test API keys, verify your email address and activate your Stripe account. And that's it, you've successfully created a Stripe account.
But we're not done there. Now you have to connect Stripe to your WordPress website. To do so you need to have WPForms installed and you have to install and activate the Stripe addon.
Here's how you install WPForms forms to your WordPress site.
Log into your WordPress dashboard. On your WordPress Admin panel select Plugins and add new.
Type into the search bar, WPForms, and install and activate it.
Here is how you activate the WPForms Stripe Addon.
From your WordPress Admin panel select WPForms and click Addons.
To find the Stripe addon you can simply type it into the search bar.
Then simply click on the install addon button and when it is installed it will show as being active.
Now we can officially connect Stripe to our WordPress. Back in the Admin panel select WPForms > Settings > Payments.
From this page, you can make adjustments. As you scroll down to the Stripe section you will need to select the Connect with Stripe button.
Once your Stripe account is already activated you will be redirected back to the page and now your connection status will have a green checkmark.
You have successfully added Stripe to your WordPress. Now you need to connect Stripe with your payment form.
Here's how you create a form.
Firstly, you will need to create a new form. In your admin panel select WPForms > Add New.
On the setup page, you may or may not choose a form name. For this tutorial's sake, we will name is Stripe Form. Then select Create a Simple Contact Form.
This takes you to the Fields screen where according to your license you can customize the way your forms look.
Add a name field, the email field, an items field, and of course the Stripe Credit Card field. You can do so by simply clicking and dragging the desired field to the place you want it to be displayed.
The field option allows you to edit the headings and descriptions of each field.
Then select Save.
Congratulations, you've successfully created your first form. Now for Stripe to work we need to take that same form you created and connect it Stripe to it.
How to Connect Stripe with your Payment Form?
So the last option in the setup is called Payments. Select it.
Enable the box labeled Stripe Payments. You can also add a payment description letting your users know what they are paying for and under Stripe Payment Receipt you can select where the receipt will be sent.
And there you have it. You have successfully set up your Stripe for one-time payments. But what if you run a membership site and need recurring payments. Don't worry WPForms thought about it and they allow recurring payments.
Here's how.
How to make recurring payments with WPForms Stripe Addon?
Right in the same box as you scroll down a little, you will see the heading Subscriptions.
When you've checked that box you will need to fill in some additional information.
You will need a title for the subscription, how often you want recurring payments to happen, and the customer email.
And just like that, you have connected your Stripe with payment forms using the WPForms Stripe Addon.
<< Download your WPForms here >>
XIXI
NICOLE J
Be sure to leave a comment and don't forget to share this with your friends because we need to share more in this world. Do your part in this sharing, caring work.