Are you looking to accept donations on your WordPress website? Are you looking for a simple, easy way to integrate those forms into your site as a book blogger? With the worldwide pandemic going on many are in need of donations and there are many that are willing to give such donations.
Making donating funds quick and easy is the best way to go. The easier and simpler it is to transfer funds, the more likely persons are going to do it.
In this article, we will discuss how you can integrate your donation forms in WordPress using the WPForms plugin. And also to you will learn how to install and activate the plugin, create the form, and add the necessary details to make it donating ready.
Before we launch off into everything donations, there are three things you need to do to get the most out of this article.
Grab your pen and paper
Get yourself some relaxing liquid
Turn away all distractions
Okay, now you are ready to get started. This is Non-Profit Donation Forms in WordPress.
If you prefer a video version of this tutorial please check out the video below courtesy WPBeginner.com.
This article contains affiliate links which means I get a commission if you make a purchase by clicking one of the links at no extra cost to you.
Creating the Donation Form
First, you need to install and activate the WPForms plugin in WordPress. Simply go to Plugins > Add New and search for the plugin in the search bar.
When located tap the install button and then hit activate to make the plugin useable.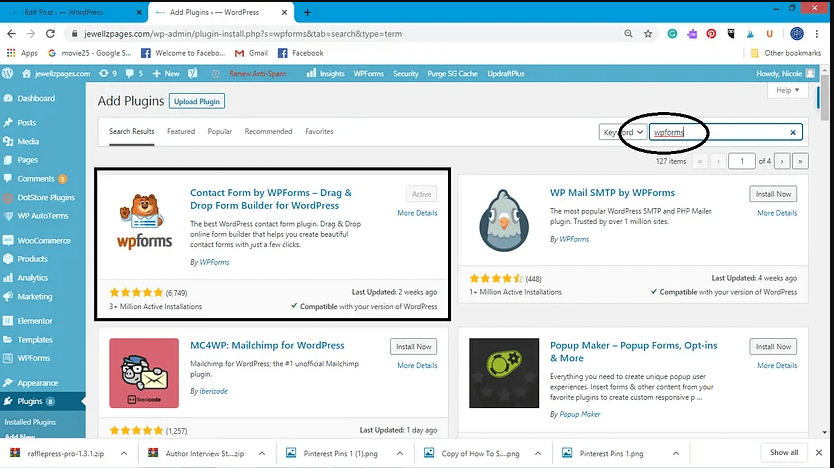 Now in your WordPress dashboard got to WPForms > Add New to create a new form.
P.S In order to have a donation form option you will need pro license.
WPForms has sample templates to choose from. Select the donation form template and add a name to your form.
Customizing the Donation Form
If you have been here from the beginning you'll know forms is a huge part of our website and so the same way we customize the multi-page forms or add payments to our forms is the same way we shall be customizing this donation form.
The template donation forms come with the name, email, donation amount and comment, or message.
Additional fields can be added by simple drag and drop actions. Through those actions, you can rearrange your fields to suit the needs that you have.
With the single item field you give the user the choice to choose how much they would like to donate to the particular organization, while with the multiple items fields, multiple choices are set allowing the user to choose from the options you have.
In order to add multiple items field to your forms, simply go to Payment Fields and select multiple items, dragging it to the place you want it in your form.
Now changes can be made to this field. The label and items can be changed. The image below shows us the donation amount in the label section and the items feature $5, $10 and $25 and the Enter Amount.
When you scroll down you will see the Required checkout box. Check the box to make sure that before your users click submit they have to put in a required amount to proceed.
Now your users would also like the option to put the amount they would like to donate. The options that you have may not be what they want. They may prefer to put a lesser amount or a greater amount.
To allow your user's extra flexibility, a single item form field should be on display when they click Enter Amount. Click the Donation Amount to make these required changes.
Ensure the checkbox marked Required is unchecked.
In the dropdown menu, Conditionals you will have to enable the conditional logic to get further options. Selecting Show this field if Donation Amount is Enter Amount allows your users to decided how much they are willing to donate.
This is also shows consideration for your users.
P.S Don't forget to SAVE.
Donation Forms General Settings, Notifications, Confirmations
Go to Settings > General to manage your form's name, description, and much more. When you have filled out and check the boxes of your choice, click SAVE.
With regards to donation form notifications, this is when you get notified every time someone donates. This feature is automatically enabled. You can use smart tags, multiple form notifications, and custom header to make your notifications more personal.
Letting your users know that you have received their donation puts them at ease. There are three types of confirmations you can choose from.
The Message Confirmation. Put the user at ease and put a smile on their face with a simple message letting them know their donation was received and greatly appreciated.
The Show Page Confirmation. This can be a personal thank you page.
The Redirect Confirmation. Send your users to a different part of your website that may contain additional things they would be interested in.
To set up your confirmation, simply click Confirmation in Settings and choose your confirmation type (any of the three mentioned above).
P.S Don't forget to SAVE.
Setting up Donation Form Payments
Paypal and Stripe are easily integrated through their addons in the WPForms plugin. In order accept payments you will to install and activate the right addons.
For a full tutorial on installing and using the Stripe Addon and the Paypal Addon, check out the step by step instructions below.
How to Install and Use Stripe Addon
How to Install and Use PayPal Addon
In my country, PayPal is readily used. To set up the PayPal for donations you will need to enable PayPal standards payments, add your PayPal email, choose the Production mode, and type of payment, which in this tutorial will be the donation.
The rest of the information should also be filled out to give your users a better donating experience. Then click SAVE.
Adding Donation Form to Website
We need to add the form to the website for our visitors to use. Forms can be included in our blog content, pages, and even sidebars (my favorite).
On your posts and pages on your website select Add Form. Choose the donation you just created and add it to your website. Then hit publish.
To add it to your sidebar, go to Widgets in your WordPress dashboard. WPForms widgets will ask you where you would like to place your form. Select left or right sidebar and choose the form you just created.
In Conclusion
Now that you know how to create donation forms in WordPress, let's give back to our community during this pandemic season. What are you waiting for? Get your WPForms for FREE today.
Found this article useful in some way, then please spread the word. Let all your friends know that attaching a donation form to their website is super easy with WPForms.
XIXI
JEWELL NICOLE