Are you looking for the best payment solutions as a freelance writer? You're probably in a country where Stripe isn't available or direct deposit to your bank is totally out of the question. Yet you have a burning desire to write, some great stories to tell and there are people out there who want to pay you for your knowledge and skill.
But how? What options do you have as a freelance writer who has no Stripe access?
A little while back we discussed Stripe for your payment solutions. However in many countries, as was said, Stripe is not available or accessible to persons including me. Do you how do I receive payments from the U.S and other countries. I use Paypal.
If you are a freelance writer, new writer, aspiring author, or a bestselling bae and you are looking for alternatives to collecting your monies from other countries then this is the article for you.
If you want a fast yet easy simple way to receive such monies then you are in the right place. However there is one thing, maybe three things I need you to do so that you can get the most out of this article.
Grab a pen and paper
Pour yourself some happy liquid
Get rid of all distractions
Okay now that you are all poised and ready, let's get into it. This is Paypal – The BEST Payment Solution for you.
This post contains affiliate links which means I get a commission if you make a purchase and no additional cost to you.
The PayPal Way
As a freelance writer, Paypal has become the best payment method for me. Paypal has really become my money pal so to say. I have helped so many of my friends to use this avenue as their payment solution and they love it.
Because I collect all my payments through the Paypal platform I started wondering, do my book bloggers and writers know that Paypal is a great payment opportunity? Are they also looking for the best solutions to receive their monies?
Then it got me to thinking, the other day I posted about creating multi-step forms on the website. But do you know that you integrate your Paypal into your forms? And guess what, WPForms is here again to rescue us from hard and complicated and brings us the easiest way possible and that is through their plugin.
You will need to download, install, and activate their plugin in order for you to try this out. And remember you can do this all for FREE.
So in this article, we are going to discuss how you can install the Paypal addon button, create a form, and then add payments to that form. If you prefer a video version then click the video below.
P.S. This feature is only available in pro license level or higher.
The PayPal Addon Button
With the Paypal add-on, you can create order forms for your physical products. So as writers we may be selling our books to our readers and want them to fill out their information right from our website. The PayPal addon helps you to receive those payments easily.
This addon also allows you to sell digital products to your readers. This maybe your digital copy of your novel or you can sell your services such as freelance writing. With this feature, you can also add donation forms to your website and help out those in need.
And that's just the first page of the book pile.
How to Install the PayPal Addon Button
WPForms must be installed in order to access the addons page. When you log into your WordPress dashboard, under WPForms you will see the addons option according to your license.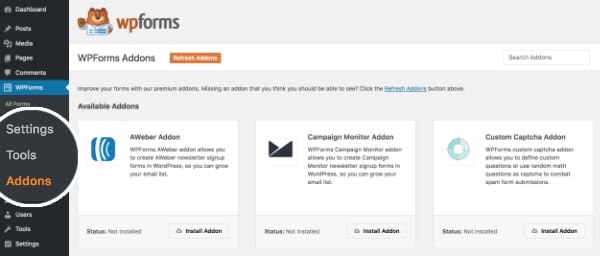 If you don't see the PayPal addon then click the refresh button or hit the search bar to look for it. Then when you have located it click install addon. The PayPal addon status will then become active.
Creating a New Form
WPForms builder comes with four pre-made templates for you to choose from. If you'd like, you can also create a blank form and start from scratch. Simply click WPForms in your WordPress dashboard and select add new.
PayPal only needs an item field to work properly. Under the payments field there single or multiple items, checkout items, or dropdown items fields along with the total.
While the total field is not required it can be very useful for your users for them to see how much the will be paying. Once we have created the necessary fields the next thing we need to do is add PayPal payments.
Adding PayPal Payments to Form
While still in form builder, select the last option, payments. Click PayPal Standard and enable PayPal Standard Payments.
Fill out the your PayPal email address, mode, and payment type. If your customer decides to cancel their payments, then fill out the cancel URL. If you are selling physical products then filling out the shipping fields will be required.
P.S Don't forget to SAVE.
And there you have it. Plain, simple, and easy to understand. As a freelance writer or new author, you can sell your products right from your WordPress website.
Using payment solutions like Stripe and Paypal while integrating them with the WPForms plugins makes it a whole lot easier. Thus receiving payments directly into your bank account has never been more stress-free.
As always, I hope you really enjoyed this article and that it has benefited you in some way, whether helping you fully understand how to receive your money or giving clearer understanding in what you already know.
For additional information on PayPal addons and other addons then click right here. And if you have found this to be helpful why not share it with your friends and help them start making payments easier with their website?
XIXI
JEWELL NICOLE