Can you feel it? Fear and excitement in the air, bubbling over like a witches cauldron pot. Can you see it? Those long willowy fingers grasping the pen and busy constructing the perfect plot. Can you smell it? The ink dripping onto the paper with every prepared word. Can you hear it? The keys on the keyboard being tapped away at in such a maddening rush to the finish.
Have you guessed what I am excitedly talking about? That's right guys, NaNoWriMo!!! NaNo prep has started 5 days ago at the time of this post and writers are working tirelessly to prepare their novels for the challenge.
The hustle of #preptober is coming up along with the fast-approaching holidays. By the way, have you figured out what gifts you are going to be gifting your favorite writers this year? I have quite a few in mind.
Anyways this article is all about NaNoWriMo, what it is and why you as a writer should join the challenge. A little while back I asked my Facebook Groups if they were taking part in NaNoWriMo in November and we're looking for writing buddies and many told me yes.
However, there were quite a few that had no idea what I was talking about. I was quite shocked because I thought writers automatically knew what NaNoWriMo was. Hence this article became an idea to write and it comes just in time because NaNoWriMo is about 10 weeks away and prep has already started.
Before we can get into the article you know what you have to do.
Grab a pen and paper
Pour yourself some relaxing liquid
Turn of all distractions
What is NaNoWriMo?
NaNoWriMo is a challenge where writers write 50k words in 30 days. NaNoWriMo takes place once a year and happens in November. November is the month for writing thus NaNoWriMo is the acronym for National Novel Writing Month.
I know 50K words sound like a lot but it actually isn't. The key is to take one day at a time and break down the word count into small bite-size pieces. When I calculated it, you need to write 11,669 every week to reach the goal. Which means about 1,667 a day.
Easy? Yea, we'll chat with you on the 15th, when you're secretly wishing November only had fifteen days but the thought of not making the word count is also a pressure for you.
So are you a fast writer? Usually, 1000 words can be written in one hour. Since you could write about 2K words in two hours you will surely be ahead of your writing schedule provided you do this every day.
What I love doing is breaking up my word count into small time slots and try not to focus on my word count, but my time goal and my joy for the story. I do half-hour time slots and usually write about 600 words and I also spread it throughout the day so that I don't feel pressured.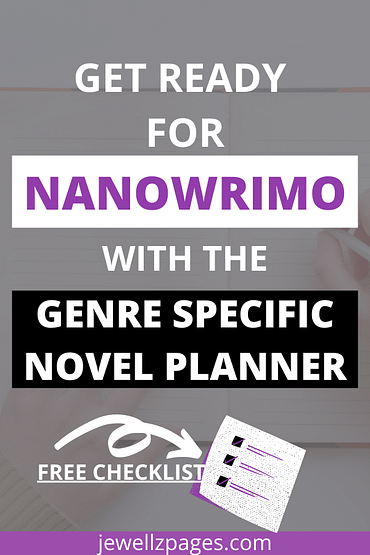 NaNoWriMo Rewards
The beautiful thing about NaNoWriMo is that they reward you richly. If you successfully complete the challenge you get your certificate to flaunt, signed by the director. You can also receive stickers for every time you input your word count goal which helps you stay motivated.
At the end of the challenge, the option to join sponsors for great deals is offered and you can get things like Scriendriver for a great deal. So have you declared your NaNoWriMo major yet? What are you waiting for?
Here are my declaration and my handle if you're looking for a writing buddy or want to join a writing group.
Why is it SO Beneficial?
Habit of Writing
They say it takes 30 days to develop a habit. Not so sure how true that is but that's what they say. NaNoWriMo gets their writers to acquire writing as a habit for 30 days and so if you're struggling to maintain a writing schedule, then joining NaNoWriMo can be a helpful start.
Writing Community
During November the innate support you receive from other participants is overwhelming. I remember last year, on Twitter, I was pretty active in the writing community and they help to grow my account to over 1K in one week. It was amazing.
The Writing Community usually hosts sprints and send motivational quotes through their various social media accounts to inspire us. If you're looking for support in your writing journey then check out these writing communities that I so love.
writingcommunity on Twitter
writingcommunity on Instagram
blackwritingcommunity on Instagram
indiewritingcommunity on Instagram
Complete Rough Draft
This is a place every aspiring author would like to reach. Completing the first draft is a huge hurdle many don't ever overcome, I included. I have so many unfinished drafts, it needs its own bookshelf.
But that could change when you join the NaNoWriMo challenge. If you stick with your writing schedule by the time November is over you would have the coveted completed rough draft of 50K words and more.
Also, too many writers will be joining you in singing the successful song, 'I am a NaNoWriMo Champion.'
Meet New Friends
During NaNoWriMo month you meet so many new writers and authors. The ability to form friendships and connections are endless and can be very useful when promoting yourself and your books.
You can follow them and they follow you. Share comments, jokes, memes, and tips on your writing struggles and what has helped you. The possibilities are endless but only if you take up the challenge.
NaNoWriMo is all about having fun. I do it because of all the above reasons. I am passionate about writing. The pen to paper action gets me giddy as you may already know. And telling my story to the world is a dream that I am going to fulfill.
But like with every challenge preparation and planning is involved. Without it, you can never be successful. Thus how do you prepare for the challenge ahead?
How to prepare for NaNoWriMo?
Sign up – Prep started five days ago but it's not too late to sign up and declare your major. You still have two days to complete the first week so no pressure.
Declare your major – You'll be prompted to fill out a form with your book title, genre, and if you'll be writing for NaNoWriMo and so on.
Download the NaNoWriMo checklist sheets – this helps when planning your novel.
Get your Genre Specific Novel Planner – comes to equip with word count trackers and sprint trackers, a NaNoWriMo goal sheet, and many inspiring quotes. The planner is designed for your genre, so choose.
Create a Writing Playlist – you need some inspirational music to keep you from getting writer's block, check out the planner as again as they have writing playlist sheets.
Follow NaNoWriMo Prep instructions week by week – this has helped me greatly in planning my first novel.
Make a list of meals and snacks – again the planner has a sheet dedicated to this because snacks are important when you're writing
Clean and Tidy your Workspace – clean surroundings helps you to stay focus and productive longer
Do any work you have in advance – for instance, I will schedule all my blog content for that month in advance
Have research notes at hand – the research sheets in the novel planner is a great tool for this as this helps you to refer to your notes quickly.
This is quite a long list of things you should do to get prepared for the challenge but will diligence and perseverance you'll accomplish it. Here is this list in a PDF format so you can have quicker access above.
The Genre Specific Novel Planner
Before we wrap up, a very important tool I use in my writing is my planner. I like to plot every detail of my novel leaving room for spontaneously. But I need my ideas in order so that I can think better.
This author planner has been specifically designed to help do that. I honestly was looking for a planner that had a NaNoWriMo word count tracker with a Sprint Tracker and because I write mystery thrillers, I also wanted a Death Tracker.
The thing about it is that I literally could not find a planner that had all three in one, so I decided to make one myself. I named it genre specific mainly because a romance writer would what a planner unique to them while a fantasy writer would want something different.
The writing planner comes in the following genres so far:
Romance – I used pink and red, lots of hearts, and the inspirational quotes are all tailored towards romantic gestures.
Light Fantasy – I use bright colors, butterflies, and inspirational quotes for light fairy feelings.
Dark Fantasy – I tried navy and neon blues, with an icy touch to give off a dark fantasy vibe
P.S With the Fantasy planners, I added a bonus feature, that of a WorldBuilding Sheet
Murder Mystery – I tried magnifying glass, books, dark musty colors to give some mystery
Mystery Mystery – The same magnifying glass and books but with a more olive green color
P.S With the Mystery planner, I included a bonus feature of the Death Tracker to keep count of all the murders that take place in the story.
I have many other genres coming soon, so if you don't see your genre please be patient or send me a message. I also do custom made designs.
Because these are novel planners, underlining the word planners, I decided to include a daily task sheet because our life impacts our writing and if we sort out the daily to do's we'll have more time for writing.
Self-care is very important as a writer, so I included a self-care sheet, and because we are writers and not marketers I decided to give you a boost in promoting yourself on social media with a content calendar on what to post on your accounts.
Think this is the type of planner you've always been looking for? Then grab your copy of the Genre Specific Novel Planner today. I promise you won't be disappointed.
So now time to wrap up.
In Conclusion.
NaNoWriMo would love to have you take up the challenge and be the successful writer you want to be. The benefits of participating far outweigh the cons. And while we are taking part in this marathon, we need to remember that writing is a journey and there is no need to rush.
Whatever the case may be never let anything stop you from pursuing your passion and sharing it with the world. Remember only you can tell your story the way you can tell it.
So, are you up for challenge?
XIXI
JEWELL NICOLE