This post contains affiliate links which means I get a small commission f you purchase something at no extra cost to you.
Hey Multi-Passionaters, how are you all doing? This whole Coronavirus has persons on the low. Some are bored out of their minds and others are just plain scared. Not to mention the stay-at-home policy so now many of us are working from home or we may have lost our job and now we are seeking employment.
If it's the first and we are working from home, congratulations. Working from home is a dream come true for many just not under these circumstances. And since we're home maintaining a routine can be difficult, not mention finding things to do in all the free time that we have. If ever you feel stumped for activities check out this lengthy list of activities you can take part in during this lockdown.
Related: 7+ Simple Productive Projects You can Engage in During Lockdown
If it's the latter then I am really sorry to know that. But take comfort because when one door closes another opens. Just in time for this entire Corona experience I have created a FREE email course showing you how to start your OWN online business and make money from the comfort of your couch. This course comes equipped with a Business Blogging Bible and many other freebies.
Want to start your own online business today? Siteground is offering a HUGE discount on their web hosting plan. Right now you can get your web hosting for ONLY $3.95.
This Startup plan is all you need to start your successful business and make money online. So when you have bought your domain and web hosting, you're going to need some plugins and I have just the best plugins for you, right here.
This is Launching a WordPress Website – Top Best Plugins to Install on your Blog
12. MonsterInsights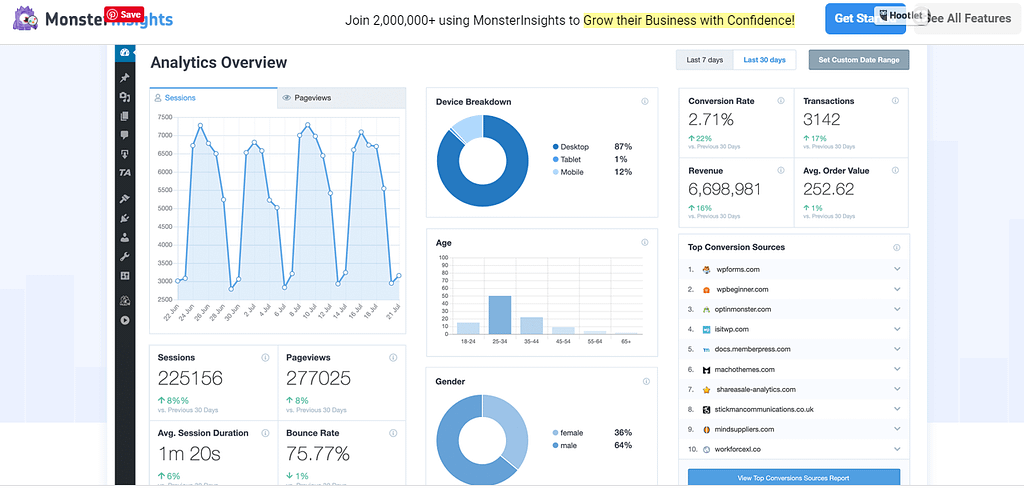 If you build an entire WordPress website and did not install analytics then your website is incomplete. Analytics helps you to track who visits your site and at what times.
Who do we recommend as the best analytics tracker?
None other than MonsterInsights. They have over 2 million active users included your truly making them the #1 best Google Analytics plugin for the WordPress platform.
MonsterInsights provides its users with universal tracking with no coding necessary. Get your website analytics report right inside your dashboard, so there is no need to log into Google Analytics to see your progress.
It provides 1-click seamless tracking integration with WooCommerce, WP Forms, Yoast and many more popular WordPress plugins services.
It takes about five minutes to set up and offers audience insights, translations and it is mobile friendly.
What I love most about this plugin is that I can see exactly how people find my website. That way I know what content my readers the most and where I could improve.
Guys, if you're not using MonsterInsights then you're not blogging right.
11. OptinMonster
Did you know that in every 200 visitors to your website, you will capture less than 1 email? That is some sad, sad stats.
How can we overcome this problem?
With the Optin Monster plugin. With over 1 million users who allow this plugin to capture emails and get new subscribers. Create beautiful capture forms with many form types.
These 1 million users use the Optin Monster plugin to turn their traffic into subscribers, leads and eventually sales. You too can join the fun and your email list built.
10. WPForms Plugin
Why not join the 3 million including me users that believe in working smarter and not harder. How do we do that? With WP Forms of course. This drag and drop form builder allows you to create contact forms, the most used.
You can also create subscribe forms, payment forms and registration forms. Not to mention the online surveys and order forms. No coding is needed, just imagination and a mouse.
The plugin is WordPress compatible and comes with pre-built templates, all 100% mobile-friendly. What is also beautiful of this plugin you can easily embed your forms anywhere on your website.
Try WP Forms today and work smarter, not harder.
9. WP AutoTerms
Are you are a law-abiding citizen? Do you ensure everything in your life, including your blog, is legal? Well, then you need WP AutoTerms to keep you protected.
This plugin allows you to create legal agreements needed for your WordPress website. Create the well-known Privacy Policy, Terms and Conditions, and Disclaimer pages.
Create your custom legal pages, automatically link your legal pages in the footer menu, inform users when you have updates legal pages and include Cookies Notice Banners to inform users that you use cookies throughout your website.
8. WooCommerce
The WooCommerece plugin comes in very handily when you want to sell digital products and physical products. It's the most customizable eCommerce platform for building your online business.
Giving you complete control to sell anything, anywhere and to anyone right from your WordPress dashboard.
Build the store of your dreams that is tailored to your client's needs. With WooCommerce you can make the selling and buying experience a beautiful one.
7. The Page Building Plugin
Do you want a sleek, scroll worthy website? Want to be able to customize your site beyond the limitations of your theme? Do you want to look like a pro despite being a newbie?
Then you need the Elementor Page Building Plugin. This is one of the first seven plugins you should install on your brand new website.
Join 4 million website users who build better, sleeker, beautiful site with the Elementor. This drag and drop plugin equips your website with 100% visual design and faster performance.
Imagine that! Your page builder increasing web performance. But that's not all, with this plugin you get more traffic, more leads and more conversions because of the ability to design visual worthy forms.
So, the next time you have a web design idea in your head, allow the Elementor plugin to make it a reality.
6. The Email Building Plugin
This is very important in capturing emails. Emails are the lifeblood of your website. Your subscribers are the ones who can make or break your website. They are your loyal readers who want to learn more about the information you are giving them.
Since this is the case it is imperative that you start collecting emails from the beginning. To do that I recommend Mailerlite especially if you're a new blogger. So Mailerlite offers a plugin that is compatible with WordPress and you are allowed to add forms, embedding them into your blog post.
What's also beautiful about Mailerlite is that they offer up to 1000 subscribers FREE. So it's a great place to start.
5. The Social Plugin
I don't know about you but I'm a sharer. I share everything except for my food. And that includes my blog post. Since I love to share so much I need a plugin that was very effective and can withstand the onslaught of clicks it can get on a daily basis.
Who do I use and whom should you use?
Social Warfare. Yes, guys, it's a social sharing warzone out there and you will need the right suit of armor to battle it properly. You need a plugin that boosts your shares in addition to the many efforts you will be putting in.
Social Warfare does not slow down your site and it's super attractive. You can customize your buttons anywhere on the page and choose from their styles to blend it with your brand.
And their best feature – the floating option. Now you can follow your readers through the entire post allowing them to share your blog content anytime they want.
How much more convincing you want? Check out Social Warfare for more information.
4. The SEO Plugin
Everybody knows that Yoast SEO is the #1 best SEO plugin to install on a WordPress website. You want Google to love your content, use Yoast. You want your content to be found, use Yoast. Do you want to build traffic to your blog via said content? You know want you got to do. Use Yoast.
Why is Yoast SEO so divine?
There is a buttload of reasons but here are just three.
Number One. It's everyone's favorite. I know you should never follow the crowd but in this instance, you need to follow the millions of users worldwide. Yoast has helped them with their WordPress SEO efforts and they can help you too. Stay on top of your competition with Yoast SEO.
Number Two. It's a pleaser. It does everything it can to pleaser not only the users but also those search engines we all try to get number one in. With their dedicated team trying their utmost best to improve with each update.
Number Three. Because content is king and Yoast knows that they have provided their users with SEO and Readability analysis which improves our experience as website owners and bloggers.
I could sit here the whole day and write about Yoast SEO but the true experience is getting to know yourself. Get Yoast SEO today and see the difference.
3. The Security Plugin
Have you ever been hacked? Do you have a fear of being hacked? How about we allay those fears with iThemes Security.
Why I love this plugin?
Apparently I was being hacked and didn't even know it. Someone was trying to access my login information. With my security plugin, they alerted me to what was going on but they also didn't leave me to fend off this hacker by myself.
The plugin is equipped to deny access to hackers, spammers, and even identity thieves. They offer over 30 ways to lock down your website including two key identification.
Because WordPress is so easy to install it is also very easy to hack thus iThemes Security locks down WordPress, fixes issues, stops automated attacks and strengthens user credentials. Without this plugin, I may not have a website today.
You cannot have a successful WordPress website that is making money without iThemes Security.
2. The BackUp Plugin
Has this ever happened to you? You wrote an entire article, beautiful and lengthy. And as you tap the last full stop on the screen, your computer malfunctions and that's it. You sat for over an hour perfecting the perfect article only to lose it in seconds.
How do you feel? Your heart sinks, you feel sick to the stomach and you wonder why am I still alive? You just wish the earth would swallow you up.
Why succumb to those feelings when you could have an automatic backup? With Updraft Plus you have no more worries or stress. You don't need to remember to back up your work because Updraft remembers it for you. So now you can write those lengthy articles with ease. do your job and let updraft do theirs.
This is not a paid advertisement. LOL
But seriously guys. As writers and bloggers, we know all too well the consequences of not saving regularly. I write out long blog posts only to save at the end of the entire thing. Many times my computer malfunctions but because I installed Updraft at the beginning I am able to restore my files.
They have an automatic backup feature which is all about convenience. No more manual backing up. Just set a backup time and let the plugin do the work. But don't let me tell you everything. Try it out for yourself.
1. The Performance Plugin
Performance and speed are seriously important factors on a website. That's why it's the #1 plugin on this list. How many of you, when visiting a website and it runs slow immediately clicks off? I know I do.
I hate when a website is running slow especially in this fast-paced world.
What should you use to optimize your website speed and performance?
If you use Siteground as your web hosting then there is no need to install and performance plugin. Their hosting comes equipped with its own performance.
However, if you're using any other hosting then we suggest using the WP Super Cache Plugin. They have over 2 million active installs and provides their users with the best speed optimization possible.
So, that's it. That's all I have for you. If there are other plugins that you deem to be necessary for your WordPress website please feel free to let me know in the comment section.
And pretty please share this with all your friends because sharing is not only caring but it's supporting, especially in this Corona times.
XIXI
NICOLE J