With the number of hashtags floating around on Instagram, that literally cover any topic you could possibly think about, getting noticed on the platform is nearly impossible. The new algorithm changes constantly so trying to conquer makes absolutely no sense.
Don't waste your time. And while understanding the algorithm is important there are other things that you can take advantage of that will help you boost your engagement.
Wouldn't it be easy to just take a photo, slap an awesome caption on it, drop a few hashtags and hit the share button and the readers will come, the likes will follow and the comments will be plentiful? If only that was possible. Such wishful thinking!
Unfortunately, the Instagram platform does not work that way and a great deal of effort is required to get the results you desire. Fortunately for you, I have a few things that I do every time I show up on the platform.
As independent writers, we have the responsibility to promote ourselves and our book. And since that responsibility falls on us we need to make sure that whatever content we put out there is reaching somewhere. This means whatever hashtags we are using it needs to be directed to our target audience.
In this article, I will share with you some hashtag tips and strategies that I use and I've learned in order to get more followers, likes, and the most important, engagement. Also to I created a printable with the best Instagram hashtags for indie authors to increase Instagram engagement.
Before we can go into this post, there is three things you need to do in order to get the most out of this post.
Grab a pen and paper
Pour yourself some happy liquid
Get rid of all distractions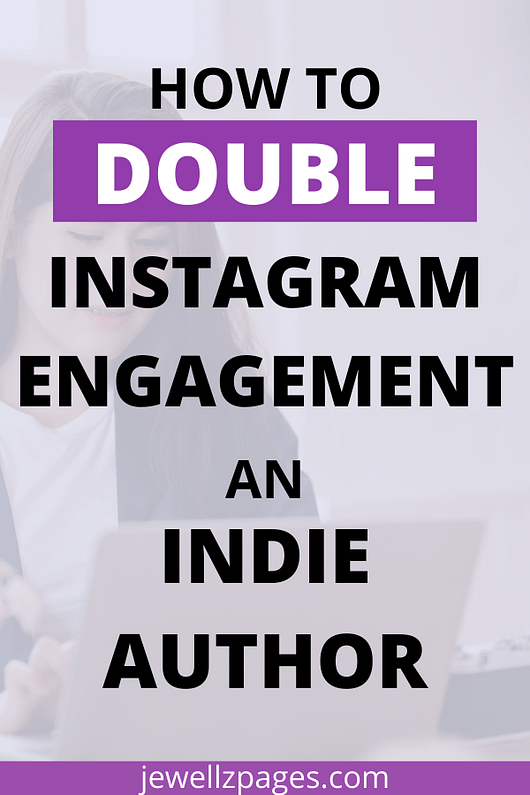 What are Hashtags?
Hashtags are searchable. Pinterest and Google have SEO whereby you discover pins and blog posts through their search engines because of the Search Engine Optimization.
However, Instagram does not have SEO. You can't type into the search bar how to find… and you'll get a result. It doesn't work that way. What does happen is if you type a hashtag into the search bar you'll get results in the form of pictures.
This means in order for your pictures and stories to show up on the platform you need to add hashtags to them.
Tip #1 – Use Relevant Hashtags
Like duh! One of the most common mistakes users make. They slap on a whole bunch of hashtags just because it will get them in front of many people. Their impressions will blow up. So you post a picture of you reading a book and your tag is #flowers. Mind you, there are no flowers in the background and you are not smelling any flowers, so why the irrelevant hashtag?
The purpose of hashtags is so when your audience is searching through them they can find content relevant to that topic. So when you think of hashtags you need to think of keywords that will describe your picture.
The more relevant hashtags you use the more likes and comments you will get because your pictures are what people are interested in. Remember as an indie author, promotion is a big deal and so using the right hashtags helps us grow faster.
Tip #2 – Use ALL 30 Hashtags
The Instagram hashtags limit is 30 so why you only using four? The more hashtags that you use the more chances you can be found, your photo will get likes and you'll increase Instagram engagement on your account.
Instagram is not going to penalize you because you use all the hashtags they are allowing. Just think about it. If you post one picture a day you are increasing your chances of being discovered about thirty times, provided you are using the 30 hashtags.
Some users post twice a day which increases their chances of being discovered by sixty times. Other users post three times a day and they increase to about ninety times. The required amount of times one should post o Instgram should be 1-3 times a day.
As a new writer, we would not want to overwhelm our audience with multiple posts a day. I usually post once or twice a day depending on what I would like to share.
But the point is by taking advantage of all 30 hashtags you are increasing your chances of being found. And if you use 30 relevant hashtags then you will show up in front of your target readers which increases your chances of growing your account.
Tip #3 – Change up your Hashtags
Using the same hashtags over and over on every single post will get you in trouble. And I mean Instagram is going think you are a spam account and we all know what happens to spammy accounts.
When you do your research and you find hashtags that are helping you grow you should jot them down. But you may feel that if you change up you would not get as many likes or comments as before. And that may be true but it's okay.
When you try different hashtags it helps you to see what really works with your account and what really works with the particular picture you are posting. Hashtags have different search numbers and using various ones helps you to further your reach.
Don't limit yourself to a particular set of hashtags. There are many more to be discovered and many of your target readers are out there using multiple hashtags.
One thing that I do is write down the hashtags that work well with my account. Then when I post a picture I choose from those, taking out ones that are not relevant to the post and including new ones to see how the engagement goes.
Sometimes the engagement is amazing and then times it's not and that's fine too. Remember that it's all about trial and error and as indie writers we are looking for the best performing hashtags to increase our growth. So a little trial and error are needed.
Tip #4 – Use LESS popular Hashtags
Say what! You may wonder, I am trying to grow my Instagram. Isn't the best way to grow the account is to use the most popular hashtags? And the answer is NO! Popular hashtags see over 1000 posts a day.
This means that when you post your picture it would probably be visible for a few minutes if so much and then as others post pictures with the same hashtag your post drop down and down until it reaches a place where no one scrolls further and thus you would have wasted that post on that hashtag.
When you use smaller hashtags you have the chance of being found much faster, especially if your target audience is following those hashtags. It will definitely increase your engagement and help your account to grow faster.
When I am applying hashtags to my post I like to use MetaHashtags, that is hashtags related to the topic but are not as popular as the direct hashtag. Metahashtags are usually below 50K posts. As a new account and an indie author, I would also recommend going even lower and using hashtags with 10k, 20k, and even 30k posts.
These hashtags usually don't get updated as regularly as popular hashtags which means that your photo will stay in the recent long and the chance of being in the top post is more likely.
Tip #5 – Hashtags in the Top Post
On Instagram, there are the top and recent tabs whenever you search a hashtag. The goal especially as an indie writer is to get into the top tab. The top tab is always presented first to all users and thus increases your chance of getting noticed.
While this is not easy it is possible. Using the relevant 30 hashtags on your post increases your chances. But also when you select a post on the top tab and look at the likes and comments, are they close to yours? Do similar likes and comments appear in your photos?
If that is the case then your chance of reaching in the top post is greater. The less popular but relevant hashtags you use the greater your chances of being part of the top post tab.
Tip #6 – Hashtags in Stories
Yes, you can! I know that a lot of Instagram users don't know this and even more, don't know that you can hide them. This was a trick I learned from Kat Coroy who is an Instagram Design Geek.
Adding hashtags to your stories greatly increases your being seen by other users. Instagram users scroll through stories more than anything. Which is why it's vital as an indie writer to be present in your stories as well.
I have found that when I post in my stories and use the relevant seven hashtags, I receive lots more engagements, and persons who don't follow my account see my stories. In addition, my stories show up in popular hashtags story accounts.
But the key to hide them so that they don't look like clutter on your post. Here's how:
How to hide Hashtags in Instagram Stories
Change the color of the hashtags by using the dropper tool. Simply type your hashtag, then tap on the dropper tool and choose a color form your background to add to the hashtag. Click done and drag that hashtag to the desired location until you cannot see it. Make it smaller if you want.
I have also found that you can hide them behind the stickers you use. And I also recently learned that you can drag your hashtags outside the screen and they would still be present in the stories.
Conclusion: How do you Use Hashtags Effectively?
So in conclusion as indie writers, we want to use less popular, relevant hashtags and all 30 of them. From time to time we want to change up our hashtags according to relevance and to get an understanding of what is growing our account.
And whenever we are showing up on the platform don't forget to add engaging posts to your stories and hide those amazing relevant hashtags in them.
Hashtags are just the beginning of the book. There is so much more you can do as an author to increase Instagram engagement and grow your account. But starting with these Instagram Hashtags for Indie Authors is a great place to begin.
If you found this post helpful to you then leave your author Instagram account in the comment section below. I would love to follow and interact with you and your account. Oh by the way here is my Instagram account.
XIXI
JEWELL NICOLE