This post contains affiliate links, meaning that if you choose to click through and make a purchase, I will receive a small commission at no cost to you. I was also compensated to create this post, though all opinions are my own.
Accepting payments online should be easy as 1, 2, 3. Everyone should be able to do it and everyone should have access to it, no matter what payment platform you use on your website.
Thus, WPForms is introducing the Authorize.Net addon.
For those who use this payment gateway, now you can easily create Authorize.Net payment forms in your WordPress website and accept credit cards right on your website.
What is Authorize.Net?
Authorize.Net is not a merchant account provider but one of the oldest and most popular payment gateway providers for eCommerce.
With a solid 4.5 out of 5 stars, Authorize.Net performs well, offering several additional features including excellent customer service and support.
Pros
Broad support for multiple currencies
Month to month billing with no long-term contracts
Predictable flat-rate pricing
Cons
High flat-rate prices for an optional merchant account
The all-in-one option can confuse customers
Authorize.Net handles billions of transaction submissions for over 400,000 customers. And now you can use your Authorize.Net account with your forms in WPForms to accept credit card payments through the use of the Authrize.Net addon.
This integration gives you some fantastic easy to use features tat allows the free flowing of sales to continue on your website.
Features of WPForms + Authorize.Net Integration
This addon inclues:
Extreme easy set up with the ability to accept all major card payments online
Accept card payments anywhere and anytime on all devices
Sell products and services with one-time or recurring payments
Ability to make payment forms smarter and convert better
Requirements
An Elite License Level is needed to access the Authorize.Net addon.
Your site must have SSL (https) enabled to securely send credit card data
Get Started with Authorize.Net
Be sure to install WPForms on your WordPress website and go ahead and install and activate the Authorize.Net addon.
When activated, go to WPForms > Setting > Payments. You can change the currency if you'd like.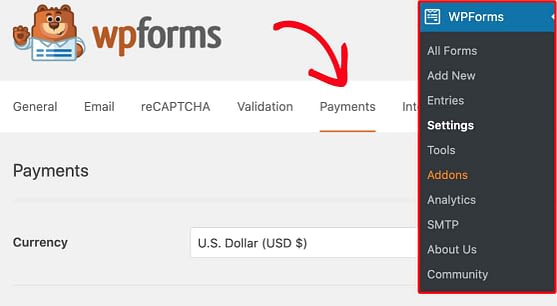 Then scroll to the section, Authorize.Net and fill out the keys that connect your site to your account.
After this is done, you will see a success message at the top of the WPForms payments page.
To get the best out of the addon you need to create a payment form in WordPress in order to accept online orders or donations easily.
The video below will show you how to get started with payment form creation.
Once the form is created, go to Payments > Authorize.Net and check the box labeled Enabled Authorize.Net Payments.
You can fill out the additional optional payments settings such as Payment Description, Authorize.Net Payment Receipt, and Customer Name. Be sure to save the form upon completion.
You can set up recurring subscription payments by checking the box labeled Enable recurring subscription payments and filling out the additional settings. Then save your form and do testing on the form which is highly recommended.
By setting up Conditional Logic for payments you can now create smart forms.
Conclusion
This payment gateway integration now makes it easier than ever to accept card payments online, with easy form creation.
Don't have a WPForms Elite license? Get started with one today and experience the power of form building.
XIXI
JEWELL NICOLE