As writers do you have an author website? Do you build forms in WordPress to attract your readers and get them to sign up for your mailing list? What types of forms do you use? Are these forms performing well? Does your audience interact with your forms? Do you find the engagement a little low?
You may feel like the forms are the problem but it doesn't have to be. Maybe you need a little boost in the form of a multi-page form. See what I did there, pun totally intended. If you want to create clutter-free multi-page forms that increase engagement, improve your readers' experience, and converts then this is the article for you.
Before we can actually get into this you will need to do three things. You know the drill.
Grab a pen and paper
Pour yourself some happy liquid
Get rid of all distractions
Okay, I see you relaxing with that pen and your happy liquid beside you. Now I know that you are ready. Then welcome to Multipage Forms in WordPress.
If you prefer to consume information in moving pictures then please feel free to check out our video below courtesy WPForms.
This post contains affiliate links, which means I get a commission when you make a purchase through my links and no extra cost to you.
What is a Multi-Step Form?
Put simply it is all about breaking up your form into multiple parts or steps. Instead of a long-form that you present to your readers and they have to scroll endlessly, you get a shorter form with a next button.
I honestly would fill out a form faster and more excitedly if there is a next button than I would fill out along form. So if you would find yourself being discouraged to fill out long forms, then think about your readers are going to feel.
P.S. A multi-page form is also called multi-step form.
With a multi-step form, you are allowed to have areas of focus for your readers and help them to more engaging. Because as was said, no one wants to read a long page form.
So no doubt you would want your readers to fill out your forms and enjoy doing so. So why not learn how to create the multi-step forms in WordPress that easily converts. Here are the steps to doing so.
Grab your WPForms for FREE and start adding forms to your website
Steps to Building a Multi-Page Form
Creating a Multi-Step Form
Dividing a Multi-Step Form
The Progress Indicator
Your Multi-Step Form Settings
Your Multi-Page Form Notifications
Your Multi-page Form Confirmations
Adding your Form to your Website
These are the seven steps but we are going to break it down into four steps to make it easier to understand.
Creating a Multi-Step Form
The WPForms plugin must be installed and activated in order to do this. If you haven't downloaded the plugin then please sure to head across here and grab the free plugin. Then head across to Forms > Add New
P.S. In order to build a multi-step form you will need any pro liscense from WPForms.
To keep this simple we shall use the Simple Contact Form that is available.
You have Name, Email, Comment, or Message. Additional fields can be added by dragging them. Changes can be made by clicking the fields. Rearrangement can be done by dragging the fields to their desired position.
Now for the fun part.
Dividing a Multi-Step Form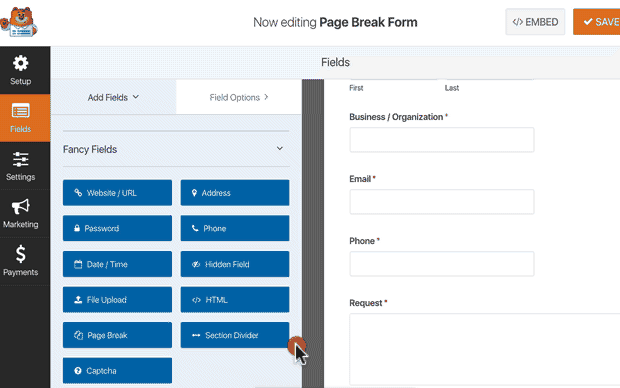 Go to the fancy fields option and drag the page break to the desired location of where you want the form to divide. Add as many page breaks you need to divide the form into many parts.
The Progress Indicator
The Progress Indicator lets users know where they are in your form. I know I particularly love this feature because when filling out forms I need to know how much is left before the submit button.
In order to add a progress bar and customize it, you need to click the first page on the first page of the form.
WPForms comes with three different indicators for you to choose from. When you've clicked the first page, you are now allowed to choose your progress bar and change the color. You can always change the page title as well.
To customize each section, simply click the page break section you just added to the form. Adding a previous page button allows your readers to return to previous pages and change their answers to give you more accurate information.
P.S Don't forget to SAVE
Your Multi-Step Form Settings, Notifications & Confirmations
In these steps, I have combined three steps into one because it takes place in the same area basically. Under WPForms select Settings > General. Here you can change, adjust, and customize, the form name and description, submit a button text, and more.
Under notifications, you can know that your forms were submitted. Knowing that is great as it helps you to realize your forms are being used. You can also send a notification to the reader who filled out your form letting them know they were successful in filling it out.
That is one of my pet peeves. Here I am filling out your form, taking my precious time to fill out your form and give you an honest answer and you couldn't let me know that my form was submitted and successful. Like, come on!
The third thing is confirmation. You can choose where you want your readers to go next or what to do next. This also lets the readers know or confirm that their precious time didn't go to waste because their form was successfully submitted. Check!
You can send them confirmation in three different ways according to your style and your audience. You can send them a message after they have filled out the form, you can show them a thank you page, or you can redirect them to a different part of your website.
To set up this part simply click the confirmation tab under the settings area. Choose the type of confirmation you would like to offer and there you have it.
Grab your WPForms for FREE and start adding forms to your website
P.S. Don't forget to SAVE.
Adding your Form to your Website
You can add a form in your blog post, on your pages, or even in the sidebar. I personally love a sidebar form, where I can fill out the information without going to many places on a website.
I usually add forms to my blog post and I even use forms on my contact page. I know that the forms that I use get a lot of activity because WPForms sends me an email every month, I believe telling me how my forms performed this month.
So vital and I love that feature. Anyways, to add forms to your blog post simply click inside the first block and then WPForms widget. Pick the form you created.
Then publish or update your page. And that's it. WPForms has made form integration super simple and easy. They know that you value your readers and want to keep them interested in what you are offering, so they have provided many features to help to just that.
If you are looking for more help on multi-page forms then go right here. And do forget to grab your own WPForms for FREE for your website so you can start converting better with adding forms.
As usually share this post with your friends because sharing is caring. And if you care about your friends then you would want them to have the easiest way possible as a writer. Just saying!
XIXI
JEWELL NICOLE