Do you know what GiveWP is? The best WordPress donation plugin that lets sites collect donations, manage donors, and build donation forms.
Do you know what Restricted Content Pro is? This is a popular membership plugin for WordPress which lets sites offer exclusive content to members, create membership levels, and easily manage users from your dashboard.
And now MonsterInsights works seamlessly with GiveWP and Restricted Content Pro.
This integration allows users to generate insights from the e-commerce activity on their site and hook into things like Email Summaries User Insights Google User Explorer feature and much much more.
In this article, I'm going to share with you MonsterInsights e-commerce add-on features and why they are important.
New Integrations for E-commerce Tracking
When growing your eCommerce store it is important that you really understand your audience.
Thus MonsterInsights has expanded its list of supporting plugins by including GiveWP and Restricted Content Pro.
These Integrations will help you to see how your online store is performing and which strategies you need to tweak.
With just a few clicks you can integrate Google Analytics eCommerce tracking into your WordPress stores.
Let's take a look.
The eCommerce Addon
In the new e-Commerce report in your WordPress admin, you can see all the critical eCommerce data that you will need.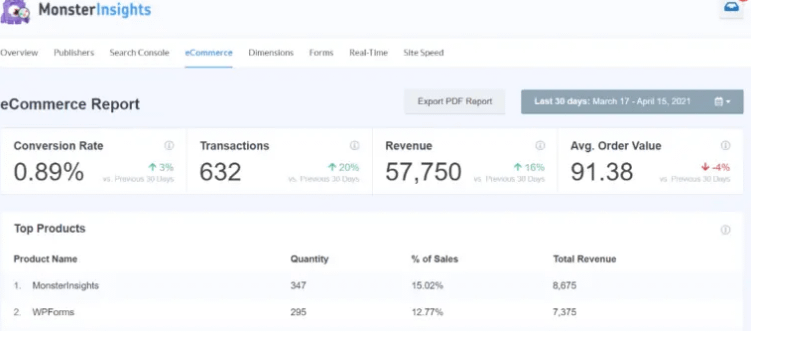 As you scroll, you can understand where your traffic is coming from, your top referral resources, and the exact revenue that are coming your way.
This data is presented in a way that is clear and easy for you to understand so that you can understand your customers and optimize your store to receive more sales.
With eCommerce tracking, you can track activity such as popular products, average order value, and even your eCommerce conversion rate.
Because MonsterInsights gives you the data that you need to make your business a success why not get started with them today!
More MonsterInsight articles right here.