This post contains affiliate links which means I get a commission if you make a purchase through one of my links at no extra cost to you.
Attention all businesses and content creators! Where are your site visitors coming from?
There are numerous different channels that visitors use to reach your website. Through your tireless ad campaigns, online marketing, and social media sharing, you reach a wide target audience and thus you need to know how your channels are working.
Tracking where your users come from allows you to exactly see traffic sources for specific pages, marketing campaigns, and measure how people find your website.
This incredible info can help to tailor your content to optimize success.
In this article, we are going to answer two important questions.
Why is lead source tracking important?
How to use MonsterInsights to do it?
Reasons for Website Traffic Sources Tracking
There are tons of benefits to knowing the sources of your visitors and as website owners you need to know them too.
Deeper Understanding of your Visitors
Identify your visitors geographical location and which channels their use to tailor the content your release. This allows you to better understand them and provide information that targets them specifically.
Focus on Specific Channels
Knowing the channels that perform best and bring users to your site will help you pay more attention to those. You can become a master of that channel or channels, providing information that suits it.
Find New Content Topics
People use different channels because they are interest in different topics and thus this gives you the opportunity to find new content ideas by checking the traffic sources for each page.
Let's see where your traffic is coming from on your WordPress website.
The Video Tutorial
Like to read? Then here are the steps in word format.
Check your Traffic Sources in WordPress
We are using MonsterInsights because they are the best WordPress plugin for Google Analytics and because they make is super easy to track your traffic insights right from your WordPress dashboard.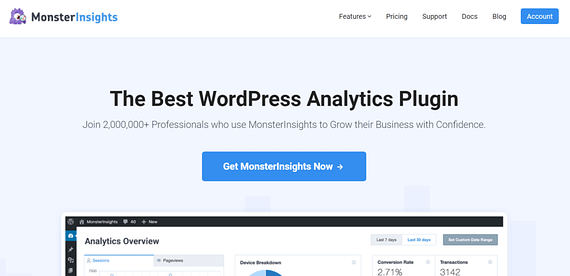 Overview Report
 Go to Insights » Reports » Overview to see the overall performance.
Scroll down to the New vs. Returning Visitors report. In the image below you can see I have 30% recurring visitors while having 70% new visitors.
I believe the idea is to have more returning visitors than new ones because it means your content is keeping your readers interested and coming back for more. So with this now, you can figure out why you don't have more recurring visitors.
Look across to the Device Breakdown report to see which devices your visitors use to visit your website. In the image above you will see that persons use their phones to visit my site 34% more than the desktop computer.
One reason I don't have more recurring visitors could be that since my users love to use their phones to visit my site, certain areas on my site may not be mobile optimized.
Below those reports, you have the ability to view the Top 10 Countries that your users visit from. This helps you to create campaigns and content that target that specific region.
In the image below you can see I drive traffic from the US, Trinidad, India, Brazil, and Canada. Knowing this allows me to create content that is specifically for them and in their language if necessary.
In the image next to it you can view your Top 10 Referrals report. Here you can see which websites send the majority of traffic to your website and you are now able to form partnerships if possible with them.
As you can see, my number traffic driver is Pinterest. That is because I create pinnable images for every blog post and share them on the Pinterest platform.
Search Console Report
This allows you to track your organic traffic and know which keywords your site is ranked on. The Top 50 Google search terms for the website are displayed along with clicks, impressions, click-through-rate, and average position.
Now you can do keyword research, find similar search terms to optimize your site, and find new content ideas to boost organic traffic.
eCommerce Report
If you have an eCommerce store as I do then this report helps you to know where your most converting traffic comes from.
The Top Conversion Sources shows you which websites send traffic that converts to your online store.
With that information now, you can offer exclusive discounts and deals to make more money.
Real-Time Report
View your traffic stats and where your visitors are coming from in real-time. You can see traffic from referral sources, countries, and cities that are currently on your WordPress site.
This report is especially useful if you have recently launched a new product and want to see where your visitors are coming from.
Conclusion
Tracking website traffic sources are beneficial in the following ways:
To better understand your visitors
To measure your marketing campaigns
To focus on channels for best results
To find new content ideas
To identify traffic gaps on your site
With MonsterInsights you can view your Overview Report, Search Console Report, eCommerce Report, and Real-Time Report.
With each report, you gain better insight into where your traffic is coming from and now you can create content tailored for specific persons.
Try MonsterInsights for FREE and stop missing out on all that traffic!
XIXI
JEWELL NICOLE