This blog post contains affiliate links which means I get a commission when you make a purchase through one of my links at no extra cost to you.
Google's new tracking code system! It allows users to send data to each of their Google marketing tools, provides better integrations, and offers deeper insights about visitors and how they behave on users' websites.
And since Google will be using gtag.js to create new analytics features in the future, MonsterInsights has made Global Site Tag its default tracking code for all new users.
Yes, people, we are back with another MonsterInsights article and in this exciting read, we are taking a closer look at MonsterInsights Global Site Tag support.
Questions such as:
What is gtag.js?
Why is important?
And how to install gtag.js on WordPress with MonsterInsights?
These will be answered in this article.
What is gtag.js?
Global Site Tag or gtag.js, is Google's new tracking code snippet.
To make full use of all the marketing tools that Google provides, you will need gtag.js. This new JavaScript is not strictly a Google Analytics library as it supports Google Ads conversion tracking and other support tracking for products provided by Google.
This also provides better integration and offers a deeper understanding of your visitors and their behavioral patterns on your website.
Why is important?
Once you rely on Google Analytics and traffic details you will need to know all there is to know about Global Site Tag.
This new tagging framework will be used by all Google tools and thus in order to send data to these tools you need to make the best use of gtag.js. Since this is the latest technology, switching will make you and your visitors happy.
How do you make the switch?
Switch to Global Site Tag Tracking
For the new users of MonsterInsights, that's if you install the plugin right now, the Global Site Tag becomes your default tracking code.
That means that all future MonsterInsights installees (not a word.lol) will not have to worry about swtiching to the new tracking code.
However if you are an avid MonsterInsights user, then there is a new limited-time option for you to switch from the old tracking code which was analytics.js to the Global Site Tag, gtag.js.
As an existing MonsterInsights user, by simply clicking the button on the MonsterInsights dashboard, you can move from the old tracking system to Global Site Tag.
Here's a closer look.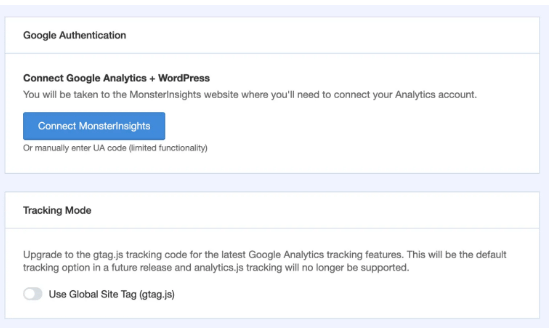 Spreading MonsterInsights Love
Ever wonder why I publish so many Monsternsights articles in a month?
Because MonsterInsights believes in the latest and best technology. MonsterInsights believes in keeping it simple for their users.
Thus they provide the latest features for their users on a regular basis and if possible make their technology with default code so that it's simpler and easier for users.
With MonsterInsights enabling features is as easy as pushing some buttons, literally.
Are you a MonsterInsights user?
Stop missing out on traffic! Install MonsterInsights now and start your traffic tracking journey.
Make the best use of Global Site Tag support and many other Google Analytics features through MonsterInsights.
---
What to read next!
MonsterInsights + 11 Other WordPress Plugins for your WordPress Website (for the essential and best WordPress plugins for your website and why you need them on your blog)
How to Install Google Analytics and MonsterInsights (essential for you if you want to have the best WordPress analytics plugin on your WordPress website and for it to be in sync with your Google Analytics)
Tools and Resources (additional tools and resources you need to keep your website running)
Let's converse in the comment section. What your best MonsterInsights feature?
XIXI
JEWELL NICOLE