Hey guys, listen up because I'm only going to say this once.
The first thing that probably came to your mind when you read the title was this is too good to be true. And probably it is, but you'll never know unless you try.
The strategy is the same. In order to make $10k a month, you need to breakdown the statistics. It's all about the numbers. Yes, to earn money online you need to think about the numbers.
So how much do you need to make every week? How much do you need to make every day? How much do you need to make every hour?
By sizing down our goal into smaller tasks, enables us to see clearer.
In order to make $10k every 30 days, you need to make an average of $333 per day. That's about $42 an hour if you work 8 hours a day.
So say, for instance, you're a writer like I am and you make $50 on every 1K words you write. You would need to work for about 6 hours to make $333 a day.
As an experienced freelance writer you can get paid about $200 per article which would mean you need to write about two articles per day. But this is if you're a freelance writer.
However for someone who is not into freelance writing you will need at least three side hustles that will make you an average of $111 a day in profit.
With such numbers can you begin to see how it is very possible to reach your goal?
Now I'm not saying that you will instantly make that kind of money in the first month or even in the third month. But by breaking down the numbers you can plan better and meet your goal faster.
Within six months you should be able to make $10,000 a month consistently.
Now the question arises, which side hustles can you engage in that will make $$$ per month?
The internet is filled with an unlimited supply of opportunities and proven side hustles that can help you attain your goal.
In this article, I'm going to show you 8 different ways you can make $333 a day to achieve your ultimate goal.
Download and share this info graphic with your target audience to help them boost their bank accounts this year.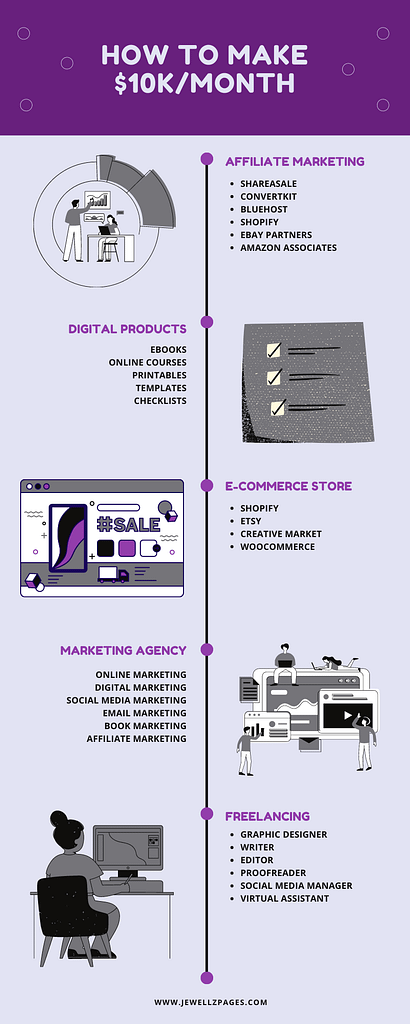 Affiliate Marketing
What is affiliate marketing?
Affiliate Marketing is a form of passive income where you promote other people's products, often through an affiliate network and earn a commission if people actually buy the product through your links and advertising.
Affiliate Marketing Programs
There are so many affiliate marketing programs on the internet. Basically many online companies pay you a commission if you advertise their products to your audience. Not only will you gain traffic to your website or blog but also earn $$$ and earn the trust of your audience.
Here are 6 affiliate programs you can join today.
With 17 years under their belt they have a grand marketplace full of merchants with products relevant to what you want to promote. You get flexible payout options with a wide product selection although it takes some time to set up your account.
The second biggest affiliate program in my opinion is no other than Amazon. You know Amazon, right? It's that online marketplace that can literally deliver anything you want from candy to god knows what in a day.
With this program you can earn up to 10% on any qualifying product sale, earn commission on all purchases the referred traffic makes to Amazon, and have a massive diversity in selection of products.
However, you only have a cookie window of 24 hours with limited payout options. Yet still joining such a program can the stepping stone to you earning passive income on a regular basis.
eBay Partners
Similar to Amazon but probably bigger than amazon is the eBay platform. You can find listings and promote products in this vastly diverse marketplace and get paid.
Shopify Affiliate Program
The leading eCommerce software used by online retailers and bloggers, Shopify affiliate partnership program is a great place to help your audience when it comes to trying to sell online.
Rising to one of the top recommended WordPress webhosts available, they have a pretty much straight-forward referral process and quality you can trust.
ConvertKit Affiliate Program
The largest email marketing platform in the world, ConvertKit is user-friendly and if your audience is into email marketing then referring this platform to them will surely add a few dollars to your pocket.
Remember that there are numerous affiliate programs you can join. Adam Enfroy is part of over 200 affiliate programs and because his audience trusts him he earns commissions on all those.
Don't limit yourself to just one or two programs. The key however, is to ensure you are using the products and services of such programs before referring them to others.
Digital Products
What are Digital Products?
Digital Products are items you sell online that don't have physical form or substance. They can be products created by someone else or you can create your own products using apps like Canva.
This is a great way to earn passive income, it's free to create, you don't need to worry about storing and shipping, and digital products can be created for any niche.
Here are a few examples of digital products you can create this weekend.
Ebooks
You can create an ebook in any niche, write it in a how-to guide and pack it with valuable information for your audience and sell it at a reasonable price. Blogging her Way made $10,000 from her ebook in the first year.
Online Courses
You can sell an online course on literally any topic as long as it's relevant and provides value. These courses do not need to be long, you can create a mini course that's filled with knowledge on a particular topic.
Add written lessons, pre-recorded videos, or worksheets to your courses to make it interactive and engaging. This makes it enjoyable and your audience would love it.
Printables
These are super fun to create and sell and not to mention super popular. Printables comes in the form of workbooks, art prints, lesson plans, planners, and much more.
Using software like PicMonkey or Canva can help you to design your printables. I use Canva to create all my printables including this planner.
Templates
You can create resumes, media kits, which is huge right now, logos for business and websites, and social media content to help persons market their business better.
A template is like a visual guide that bloggers can use to slip in their information and they come in very handy when you have not a clue how to create something or don't have the design skills.
Digital products are super easy to create and once you are providing value to your audience they will sell. You can spend a weekend creating a few digital products and reap the income later down.
Coaching/Mentoring
Coaching or mentoring is about focusing on what your client needs. You have to help your clients to solve a particular or specific problem. But it must also be an urgent problem.
Whatever the problem is, it is keeping them from achieving their important goal and that's where you come in.
I am not coach or mentor so I can't expand on the topic but I do know that a coaching program really goes into smaller problems that prevent the client from achieving their goals.
As coach or a mentor showing persons exactly how you can help them will help them to understand fully the value of your services.
E-Commerce Store
If you check out many blogs you will see they have a store attached to their blog or website.
Why?
Because it makes money. And passive income at that.
You can set up an online store on Etsy or Shopify. If you already have a website you can create your own online store using WooCommerce.
WooCommerce is fully integrateable with WordPress and Elementor to offer you sleek design and functionality.
So add a shop to your website and sell those digital products that you make on their and watch your passive income build.
IG Shoutouts
Because social media has become a beacon of digital marketing, having a huge following seems like the only way to sell your products and get yourself out there. While this is true to a certain extent engagement is always key to maintaining your audience.
However, if you do have a huge following you can sell Shoutouts to persons in your niche to help them grow their following. This can be done through IG lives, stories, highlights, and even in your feed.
Marketing Agency
Creating a marketing agency can bring in quite a great deal $$$. As was mentioned before marketing is a huge part of getting sales and also it's one of the things people don't do right.
So if you know how to do email marketing, digital marketing, social media marketing, and even book marketing, then starting a marketing agency can help.
Content Creation
What is Content Creation?
According to Hubspot, content creation is the process of generating topic ideas that appeal to your buyer persona, creating written or visual content around those ideas, and making that information accessible to your audience as a blog, video, infographic, or other format.
A content creator has to ensure that the content he or she is creating gets found by the right audience. He or she has to drive meaningful conversations with the audience and compel them to take action.
Thus a knowledge of marketing is involved and knowing how people think and why they would buy this product over another. The ability to put oneself out there and engage with the audience is also necessary.
Freelancing
A freelancer is someone who offers services to clients. You can become a freelancer by offering your services through your website but also to can sign up to networks such as Fiverr and Upwork and offer your services through their platform.
Some freelance services you can offer are:
Accounting/Bookkeeping
Marketing
Graphic Design
Virtual Assistant
Social Media Manager
Writing/Editing
You income would depend on your skills, experience and the market you are targeting. However the above examples have been found to be quite lucrative.
Conclusion
Making $10k per month should not take you six months to a year to do.
This basic list of only 8 online pursuits is the just the start to the possibilities opened to you.
My suggestion is to try affiliate marketing first and then branch off from there. In that way your links would be making money for you while you focus on other things like creation of digital products.
Have you ever tried any of the suggestions? Let me know in the comment section.
XIXI
JEWELL NICOLE