What are the writing tools you use and have added to your arsenal? What are the writing tools you simply cannot live without? As writers and aspiring authors, there are many essential tools we need to be a successful writer.
The tools we use play huge roles in our journey. These consist of our devices, software, and stationery. And honestly, if we did not possess these things we would not be effective writers. You wouldn't consider hiring a plumber who had an empty toolbox right? Or maybe an electrician who had the wrong set of tools in his toolbox?
And likewise, if we desire to make money from our writing we need to have a well-equipped toolbox. If we want to be a great writer someday the tools in our box need to be the right ones that help us to do the work very efficiently.
So, in this article, we shall discuss what's in your writer's toolbox, what's missing, and if there is anything you need to upgrade. Also too we shall discuss some alternative tools that are still super effective and what I use as my substitutes.
This post contains affiliates links which means I get a commission if you make a purchase through one of my links at no extra cost to you.
Before we can get started though, there are three things I need you to do so that you can get the most out of this post.
Grab a pen and paper
Pour yourself some happy liquid
Get rid of all distractions
Alright, now that you are all set, this is The Writer's Toolbox – Your Writing Tools.
So a tool is anything a person uses to make the work easier and get a job done more effectively. As was mentioned before plumbers and electricians use their tools to effectively do their work. Likewise, writers have tools that help them become a better writer.
Writing Tools #1 – Devices
These consist of my phone, tablet, mouse, keyboard, speakers, and charging devices. Yes, I am incorporating all of this because without one I cannot work efficiently. As a writer having a laptop, tablet or pc is one of the most important things in our life.
Yes, we can pick up a book and jot down our ideas but our devices do much more than just allow us to write. As indie authors, we have to not only write our novels but take notes, document our journey, market ourselves, promote our book, be present on social media and the list goes on and on.
There is a never-ending need for the number of things we do with our devices. When I am on the go I grab my phone and my tab so that the time it takes me to reach my first destination, I already have notes jotted down and ideas to incorporate in my book.
If I don't feel like writing then I switch on my recorder and start a recording session, recording my notes audibly. It takes ten minutes for me to reach from my home to the first junction and at that time I can write about 300 words which progresses my story.
Not to mention I'm not only an indie author but also a book blogger, which means I need to come with the content on a regular basis. When I am out and about, ideas and inspirations flow like a newly turned on tap, and having my phone close allows me to simply jot down the main points, and later I can copy and paste them into the website.
Also to I use my tab to build and run my author website and this blog, run my membership site, create tons of blog posts, and promote my services on platforms like Fiverr and Upwork. As an indie author, I would say having devices that are working properly is definitely writing tools that are worthy to be in the writer's toolbox.
Writing Tools #2 – Diaries
The pen to paper action is to die for. I am a pen fanatic but I think I love paper more, I'm not sure. I love to see those well thought out words against that white backdrop, so invigorating. If you can agree with me, hit the share button right now and say I agree.
Again, indie writers have to keep track of everything. Many of us are not yet published, I included. (look out for my novel May 2020) We have day jobs that take up a lot of our time, so we are pretty busy, and keeping track of everything is a must.
As an indie writer I use my diaries for keeping a journal, I have a story journal, documenting snapshots in my novel. I also have to keep track of my blogging topics as a book blogger and having a diary certainly helps me to keep things in order.
I have a diary for Instagram because as was mentioned before, we indie authors have to do everything. So therefore a diary for my Pinterest is an additional book to my diary collection. To date, I have 7 diaries, three of which are not in use.
How many diaries do you currently possess and are you using all of them?
Writing Tools #3 – The Planner
This is totally different from a diary in my opinion. I need to have my tasks right in front of me because I get confuses easily. Once everything is laid out in the order I can breathe better. Who agrees with me, just hit that share button.
But in honesty, do you feel like you will lose track and not complete all the things you have to do if you don't have a planner? I mean it's your life, right and yet still you need a to-do list right in front of you to tell you that you need to do these important tasks otherwise…
So as an indie writer, planning my schedule as to when I will be writing is essential. Then also too, as a book blogger, knowing when exactly I will be on social media promoting my content, then on my website creating content, and then in my emails, answering persons all requires a planner.
And I have a huge one that helps me to map out my days with such ease. But also I have a digital planner that I created with specific sections just for Instagram Authors. That includes my motivation to keep me going, and then I have manifestos to remind me of my purpose.
My planners help me to stay proactively productive as I plan my weeks in advance.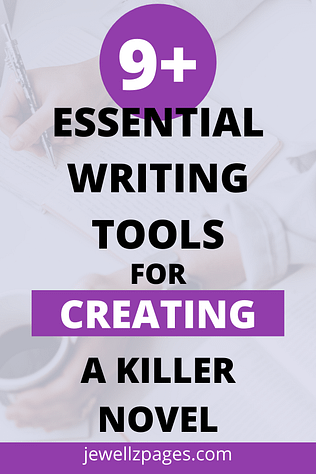 Writing Tools #4 – Pens
This is a given. I think like you know this was coming when you saw that diaries were the second tool. May I emphasize how much I love pens? I mean there are pens and then there are pens. You know what I mean!?
A pen is to a writer what water is to a plant. It's a must, a lifeline, a necessity. I go absolutely nowhere without my pens. I make sure there are blue ink and black ink in every purse, bag, and tote that I own.
There was this time I remembered a few years ago I went out with some friends, this was before I even considered writing for a living. But before I left the car I said I needed my pen. So one of my friends shrugged and asked me, "Why do you need a pen? We're only going to eat."
I looked at her and smiled as I tucked the black ink pen in my hair and said, "I go everywhere with a pen. It doesn't matter where I am, I must have a pen. You never know when it will come in handy." She shrugged some more and we made our way to the pizzeria.
Hmm! Light bulb. Probably that was an initial indication that I would be writing for the rest of my life.
Anywho, as we enter the pizzeria, the place was not quite filled and because we had such a large group the patrons drew tables together to sit our large audience. Here we are sitting and waiting, browsing through the menus, and trying to decide what we want to eat.
Everyone had a different order and to remember the order the suggestions to tick of each person's order were made. Yet no one had a pen in the group, no one but me. The same girl who had questioned me earlier looked at me and said, "Jewell has a pen. Can we borrow it?"
Satisfaction! I slipped the pen out my hair and handed it over, bringing wonderful smiles to everyone's faces and joy to my heart. My point is, pens are essential in life. You should never leave your house without one.
The type of pen I usually use is a blue fine ballpoint PIANO CLASSIC PT-1147 although I buy black in it as well. Most recently I bought purple to match with my novel. And I occasionally use PILOT BP-S FINE which writes super smooth.
What type of pen do you use?
Writing Tools #5 – Software
When it comes to programs and apps for my writing comfort I am very picky. The number one writing app is Microsoft Word as notably so. They offer a wide range of features to ensure your writing is made easy.
However, I do not use Word, mainly because my tab needs to upgrade and well funds…that's all I will say. So I use Wordpad, the simpler, duller version of Word that essentially does the trick. Once you learn how to format your blog content to be posted correctly on the site the majority of your problems are over.
I highly doubt anyone here uses Wordpad anymore but eh and I am not a Google Docs fan and I guess it's because I never took the time to learn that platform and I believe you have to be online to always have access. I prefer to be able to access my content anywhere, anytime without an internet connection.
The notes on my phone is what I use also to write my content. I believe one note can hold up to 700 words, which is ideal for me because I usually don't stay in one place for more than ten minutes.
Grammarly
If I start on why Grammarly is so amazing as a writer in general we will be here the whole day. So I will break it down and tell you exactly why Iove this platform and why it's a great writing tool.
Thousands of Grammarly users give it high praises because of the easy to use the platform they provide. One thing with me is that I type super fast and many times my fingers cannot keep up with the flow of ideas in my head.
With Grammarly, they correct my mistakes as I type. This smart computer of a platform even gives you suggestions as to what you should say and the correct grammar to include. With the pro version, I believe they reconstruct your sentence to sound more appealing.
Another great thing about this platform is the suggestions as to how your paragraph is sounding. Many of the blog articles I write I am told by the platform that is conversational but firm like I have authority. But it also includes fun and playful and it has little emojis to go with the suggestions.
One more thing before I blab away. Every month I get an email letting me know how I performed on the platform. This really perks me up as I am told that I know my Grammar. So if you don't use Grammarly I highly suggest getting it. It's FREE!
Canva
When it comes to graphics, I love this app they called CANVA. This is essential in the writer toolbox because we need to promote our content and having professional graphics behind us is the way to do it. In Canva I can create and design anything from my Instagram feed posts to the stories, to Facebook posts and timeline photos, and even Pinterest templates.
I light up my Instagram feed with a lot of interactive photos that are also educational and I bring my stories to life with Canva animated content. Why do I get my photos? Websites such as Unsplash and Pixabay offer free stock photography. Canva also offers from imagery.
Writing Tools #6 – Dictionary
This is very important among the writing tools, for writers, readers, and just human beings in general. A dictionary contains the key to knowledge. Knowledge of the unknown word and its means. Knowledge of how to spell that word and how to use it in a sentence.
Question! Have you ever asked your parents to spell a word for you and they told you to go to the dictionary? Didn't that just irk you? I mean just tell us how to spell the word, no one has time to look it up. And then again how was I supposed to find the word if I couldn't spell it?
Just random thoughts of a book blogger. But I understand the importance of a dictionary. My mom always said when I see it for myself I will understand what it means and it will stay with me, like the word MACABRE.
I have three different types of dictionaries in English and then I have Spanish dictionaries as well. I use Google dictionary (no shame) because it's the easiest and most updated version of a dictionary I believe you'll ever find. And then I have the Mirriam-Webster on my phone and I have a hard copy OXFORD.
Writing Tools #7 – Music
Not exactly considered a conventional writing tool but then again I am not a conventional writer. Music brings to my body and really gets me in the mood. I blog to music, a lot. And then I write to music.
It really gets a person in the right mood and frame of mind. As an indie author music brings inspiration. In my membership site, one of the requirements in the writer's block journal is two sheets of music playlists.
As writers, we are always encouraged to create a novel playlist for the genre we write in. Why is this so important? Because it helps you with your writing process. The moods that you feel when you listen to music are trickled down into your words in your book. So if you haven't as yet add music to your writing tools.
Writing Tools #8 – Courses
A great tool to have in your arsenal because it helps you become the best writer you can be. Remember tools helps us to do our job better, and courses are no exception. I have been writing for many years and I have taken courses in developing a character and a plot the right way.
Courses in outlining and dialogue has helped greatly. Short courses on how to prepare yourself to write a novel, then plan out the information, and start writing has all been a great help in my writing world.
So if you haven't, invest in some courses, free and paid for they will help you to be a better writer.
Writing Tools #9 – NaNoWriMo
Short for National Novel Writing Month, this is a great tool that comes around only once a year. Every November you have the chance to take up the challenge of writing 50K words in 30 days.
NaNoWriMo gives you the opportunity to express yourself by allowing you to participate in Instagram challenges throughout the month. You can receive badges for every milestone you hit and of course the certificate for becoming a champion.
But most importantly it helps you to be a better writer, pushes you to the limits, and gets you to engage in the community forums and virtual write-ins. you can even find your writing buddies.
Are you up for the challenge this November and would love the support of buddies? Then sign up to the Aspiring Authors Members Club where we help you find the right buddy while showering you will the gift of inspiration.
In Conclusion
Having the right writing tools in your writer's toolbox enables you to be the best writer you can be. Whether you use your devices big or small to record your data always make sure you have them in top condition as this improves your performance.
Diaries and planners can help you organize your life and essential your blog and social media and most important the novel that you are writing. Writing software makes putting words on paper 100% times easier and always remember to save your work.
Keeping your dictionary at your right hand ensures you never go wrong. Investing in courses whether you invest time or time and money can bolster your writing confidence. And participating in NaNoWriMo will surely be a challenge you'll never forget.
Oh, don't forget. Never go anywhere without your PEN.
Did you find this post to be helpful? Please tell me in the comments what writing tools you have used or are currently adding to your writer's toolbox? Have I missed out any vital tools I should be using? Please share this post with your other writer friends!
XIXI
JEWELL NICOLE