If you think marketing your business online is difficult let me make it 10 ways easier.
What do self-published authors and writers and new small business owners have in common?
They all have to market themselves and their business. They all have the responsibility to ensure that people hear about what they offer.
When starting out, you may not be able to pay for someone to market your business for you and thus you need to do it yourself. With that being said you may figure that marketing is a lot of work and thus you put it off for a later time.
However, doing so is very detrimental to your business. Marketing is very necessary to help people become aware of what you offer and increase sales of your products.
So, how do you ensure you have a good marketing strategy?
It all starts with mindset. And yes I know, these days everything seems to deal with mindset.
But in reality what matters more is not how you spread the word about your business but your Marketing Mindset.
When choosing a marketing strategy, don't try to do everything at once. You'll be wasting precious time. Instead pick one technique and see what type of results are yielded.
Start with something small and if it works then create something larger around that.
And stop trying to be all things to all people of all sorts. It wouldn't work. Find your unique customer and focus on them.
Now that you understand your marketing mindset, let me show you how to market your business online and drive those needed sales.
"This post contains affiliate links, meaning that if you choose to click through and make a purchase, I will receive a small commission at no cost to you."
Online Marketing for FREE
Yes, you can market your business for free and doing so can prove to be very effective. Marketing doesn't mean you need to have money to promote your business. You just need a working strategy.
Social Media Marketing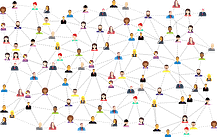 Social Media is one of the number one ways to market your business, to market yourself, and to market your products and services.
Platforms such as Instagram, Twitter, Facebook, LinkedIn, and others are used to drive sales for various businesses.
Instagram
Use Instagram to post pictures, add captions, add hashtags, and tag persons in posts. On Instagram, you can also share stories and save your stories to your highlights for further reference. This makes your business more marketable and you're able to drive sales through this visual media.
Why not start marketing your business with this platform for free and to give you a boost, try my Supercharge your Gram ebook, which enables you to grow your Instagram following in 90 days.
Oh and follow me on Instagram to get more visual blogging and writing tips.
Facebook
With Facebook you can add and create business pages like this one, surrounding your products or services.
In addition, you can join groups with persons with similar interests and share your ideas with the group. In many groups, there is a designated day for you to promote your business and products.
Further, you can create groups and get fellow authors, writers, and business entrepreneurs to join your group and give their input.
Twitter
Writers are famous for being on Twitter where they can share their thoughts ask questions and create and participate in polls to target their wider audience.
You can use Twitter to let the persons know about the products and services you offer, grow your following, and engage in the community.
Learn more about how you can grow your Twitter community in this article and why not follow me on that platform.
Pinterest
Pinterest although not a social media platform is very vital in advertising to your audience. You can create beautifully designed pins and add your URL link to your book or blog content to drive traffic and sales to your website.
Pinterest has become my number one way to drive traffic to my website. It has enabled me to increase sales to my shop and even my Etsy store.
However because this is a visual search engine, SEO is thoroughly required in order to be found in the search results.
Also to your pins must stand out with specific branding. To do so is very time-consuming so I use Tailwind for Pinterest and Tailwind Create to skyrocket my Pinterest marketing strategy.
Facebook Groups
Joining many Facebook groups can be a stepping stone to the success of your business. You can join particular groups that deal with the marketing of your business. There is literally a group for any niche or problem you need solving.
If you cannot find a Facebook group to your liking you can also create your own and make it private or public and then invite others like yourself to join and market their book, business, products, and services.
The key is to participate in your groups on a regular basis, preferably every day if you can. When persons see how much value you offer for free they will start viewing you as an expert and now you will be the go-to person for that particular information.
Commenting on Social Media
The ability to comment on someone's post on Instagram or on Facebook increases engagement. It's super important in marketing your business and boosting sales as well.
When commenting on another person's social media posts you would like to write more than five words and add interesting comments to their content.
Try to be the first one to post by turning on your notifications whether it's for YouTube or Instagram.
By doing this, you will be commenting frequently on the different content and then putting yourself out there. It makes it easier for persons who are your target audience to find you and very soon are going to click your profile and follow you.
That way you spend probably 15 minutes engaging with persons on social media and then you can gain over 100 followers.
Email Subscribers
As was mentioned in this article, email subscribers are persons who join your email list by imputing their name and email in exchange for your lead magnet.
These people are interested in your lead magnets, your freebies, and what you have to offer with regards to products and services.
You can use your email subscribers to market your business by featuring blog content, book content, freebies, and news about your upcoming releases through your emails.
You can build your email list by using Convertkit and Mailerlite to create landing pages and email opt-in forms for your freebies.
Write Guest Posts
Writing guest posts helps you to market your business online because those who you write for will feature your social media handles as well as your website or blog or book.
Also to, I write guest posts and sponsored posts, and usually the companies I write for put ad dollars behind my content, advertising it and driving more traffic and awareness to my website.
The more guest posts you right the faster you get your name out there and if your work is great, people will take notice and thus increase your awareness.
And it's even better when you reach out to other popular bloggers in your industry and ask to guest post on their blog. Usually, they have a lot of traffic and you can tell from the number of comments they receive.
This means people are reading their articles and thus if your article is up there then people are going to read it and once they love it they are going to seek out articles from you.
Comment on Blogs
When your favorite blogger writes a post you should comment under that content. Many persons read the comments on the blog content to see if their questions are being answered or asked.
Commenting under blogger's content with your business email address and website and name helps the blogger to find you very easily.
If you are a frequent commenter on blogs then no doubt the persons who have their content up will be looking forward to your comments and they also too will comment on your content.
The aim is to get comments under your content on your blog which will help to market your business or product or book.
Create YouTube Video
Making videos has become the most recommended lead magnet of all time.
Through videos, you can advertise what your book is about and also advertise what your business, product, or service is all about.
The beautiful thing about videos is that you are allowed to take content that is in written form and create a visual that can entice your target audience.
People relate better to content they can see and placing a picture in their minds through video creation can have lasting effects.
Since videos are widely used and mostly watch, using a video to market your business is essentially the best way to advertise what you are offering.
The beauty in video creation is that there are free video recorders and video editors out there and to upload your video on YouTube is free of charge.
Create a Freebie
Freebies or lead magnets are a great way to introduce your target audience to your product, service, business, website, or book.
Offering a digital download of your short story or a free chapter of your book, like this one can surely market your book in ways you never thought.
Giving your audience free access to checklists, cheat sheets, blueprints, ebooks, and video series, and ensuring it offers loads of value that can be paid for is another way to market your business.
Freebies can also be used as the foundation for enticing your readers whereby you can introduce a mini-course or a full-scale course or something greater in the future.
Post a Giveaway
When hosting a giveaway the business owner should always remember that this can help their business to progress.
Through a giveaway, you are able to get names and email addresses, allow persons to follow you by your social media platforms, and also share and interact with your target audience.
The more you host giveaways the more widely reached you'll be, and then your target audience will continue to share and participate in your giveaways.
Giveaways also too help your target readers to see that you are fun and that they too can win something by being engaging with you.
Hosting a giveaway opens up the avenue for further products to be given and introduces your target audience to what you have to offer.
Interview Others
Spreading your wings taking the initiative and dming or emailing other writers, authors, and business entrepreneurs is a great way of marketing your business online.
Interviewing high-paying authors or bestselling authors not only helps you to get to know your fellow authors better but also too you are able to allow that author to share your social media handles with their audience.
Check out this interview I did with author Tori Esther.
When a bestselling author shares your information with their target audience then you are now able to have further reached with regards to who your target readers will be.
You can interview industry experts and get their take on topics that are of interest to your audience. Get them to answers questions and explain their success and how they can help your audience.
The list goes on and on but you get the idea. Marketing your business online for free is very possible and very effective.
Conclusion
There are many easy ways to market your book and drive book sales. These ways are 100% free.
You can use social media and even Pinterest to market your book online.
You can email your subscribers letting them know the latest news on your life.
Write guest posts and articles for other bloggers and feature guest post on your blog.
Join and create Facebook groups and invite persons like yourself to these groups.
Create videos to upload them to YouTube to maximize your reach.
Create freebies and host giveaways to entice the audience to join your email list.
Interview experts in your industry and best-selling authors so that you can get to know them and that their audience can get to know you.
Comments on social media content and blog content to maximize your reach and put yourself out there.
Pick a technique that seems like it will work out, try it out for about three months giving yourself ample time to experiment, make edits, revise, and even update it so you can see how well it works for your business.
Which type of marketing do you use to promote your business online? Let me know in the comment section.
XIXI
JEWELL NICOLE